Svetozar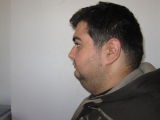 Зарегистрирован: 11.12.2010
Сообщения: 102
Откуда: Austria
Добавлено: Чт Дек 22, 2011 8:07 am

Заголовок сообщения: Im not a mixed breed mongrel! Attention Serbs and Russians!

---

So here is my Oppossing View. Thanks!

-Nordindids belong to the caucasian race as well
-so it makes me really mono-racial
-white power and white pride is politically motivated

look at my 23andMe data--> 100% European/Caucasian

there are differences and there are similarities between gypsies and serbs.
-differences--> frequency of complexion, hair and eye colour
-similarities: caucasoid body type and facial features

you can see the similarities or you can see the differences, its really politically motiviated..... from genetics an northindian is really close to an englishman.... my genetics show im 100% European

if you want you can see the differences between serbs and russians like i will point out*, you could create an nordish race and an medish race as distinct, thats all political

English Distance Japanese Distance Nigerian Distance

German .002 Korean .006 Bantu (Natal) .027

Finn .005 Mongolian .012 San-Bushmen .075

Italian .007 S. Chinese .023 Italian .130

North Indian .020 Filipino .026 German .131

Iranian .022 Thai .030 English .133

Lapp .025 Polynesian .035 Finn .133

Mongolian .055 North Indian .040 North Indian .135

Japanese .061 N. Amerind .042 Iranian .136

Korean .061 Iranian .050 Mongolian .141

S. Chinese .073 Finn .054 Korean .143

Filipino .074 Italian .055 Lapp .145

N. Amerind .076 German .057 Japanese .149

Thai .081 English .061 Filipino .150

Polynesian .096 Lapp .061 S. Chinese .155

San-Bushmen .097 Australoid .062 N. Amerind .158

Bantu (Natal) .108 San-Bushmen .108 Thai .161

Australoid .122 Bantu (Natal) .117 Polynesian .166

Nigerian .133 Nigerian .149 Australoid .176

Chimpanzee 1.60 Chimpanzee 1.60 Chimpanzee 1.60

-------------------------------------------------------------

Note: Genetic Differences between English and Italians and English and Indo-Iranians (Aryans)

English-Italian: .007

English-Northern Indian: .020

English-Iranian: o.22

http://www.fathersmanifesto.net/aryan.htm

----

*
-of course russians are seperate from serbs, russians are fairer and whiter than serbs on average..... also my russian great great grandfather was whiter than my serb relatives, he was tall blonde blue, but my serbs are brunette and brown eyed

-i dont provoke you, i tell what i think how it really is. if you look at maps, russia is center of blonde,blue and baltid is most depigmented type in world
serbs are known for dinaric types and brunetism in hair,eyes.... is that wrong? i apologize if i said smth wrong

-of course there are serbs who are blonde and russians who are brunette, but i mean the majority or bulk of populations

+so if im biracial according to you, i could be as well triracial gypsy/serb/very minor russian
+and do i really look like an mongrel breed, like a mullato? dont i look caucasian?



..................

under the line, please stop comparing me to an mixed breed mongrel, mullato and mestizo.... an mullato or mestizo is a really mixed person...im NOT!!!!


thank you for having me here again as guest.
_________________
Слава России!